With only one more week of the Sponsor a Wild Baby Campaign, staff and volunteers at TWC find ourselves thankful for the amazing baby sponsors that have generously donated to care for these fragile patients.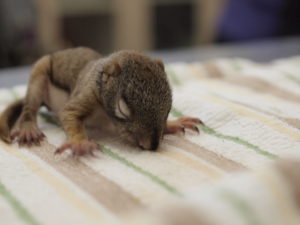 Sponsors have helped over 800 orphaned and injured babies like rabbits, owls, wood ducklings, skunks, kestrels, and so many more this spring, contributing a total of $23,700!
Still more help is needed. Summer has just begun and more babies continue to flood through the doors of TWC- like this red squirrel who was found inside a motor home in Toronto covered in fleas.
These helpless babies will continue to come in until at least October and they need your help.
Toronto Wildlife Centre is the busiest wildlife centre in the Canada, operating almost entirely on donations.
The more funding we receive, the more babies we can take in. Your sponsorship could be the difference in a wild baby's life!
The opportunity to sponsor a wild baby will close next Friday, July 7th.
Would you consider taking this last opportunity to help?