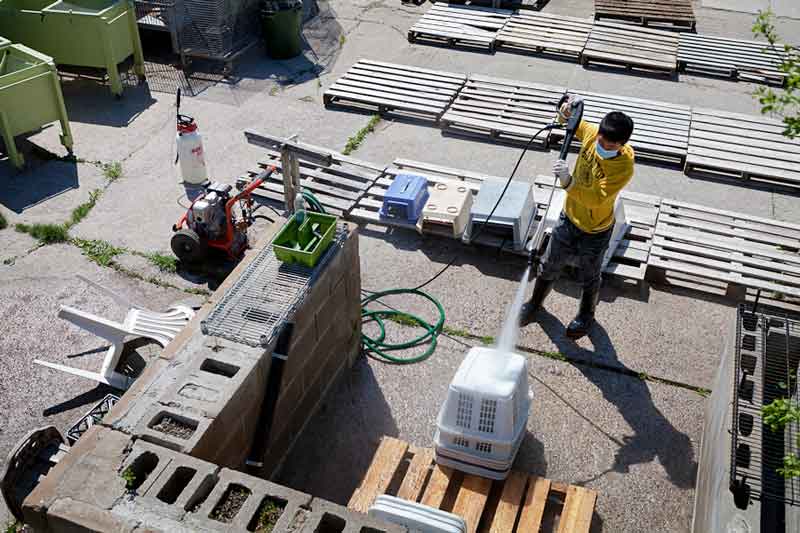 Students completing their 40-hour community service requirements at Toronto Wildlife Centre will be working as Janitorial Volunteers. With approximately 5000 wild animals arriving at the centre each year, maintaining the hospital and rehabilitation facilities is an ongoing necessity. By helping with these tasks, Janitorial Volunteers play an essential role in keeping Toronto Wildlife Centre running.
What you'll do
Help to maintain the cleanliness of the wildlife kitchen and hallways
Help to maintain the cleanliness of the wildlife hospital and rehabilitation rooms
Wash sheets, blankets and bedding used by patients
Fold and organize clean laundry
Ensure that appropriate caging and supplies are ready for incoming wild patients
Requirements
16 years of age or older
Interest in and respect for the unique needs of wild animals
Up-to-date tetanus vaccination
Training
Janitorial Volunteers are trained by Janitorial Staff and supervised by Wildlife Care and Janitorial staff and experienced volunteers.
Time Commitment
Janitorial volunteers have more flexibility in shift times than other Toronto Wildlife Centre Volunteers. This makes the position ideal for those whose schedules can't accommodate a regular weekly shift, or who are able to volunteer for different amounts of time each week to earn their 40 hours.