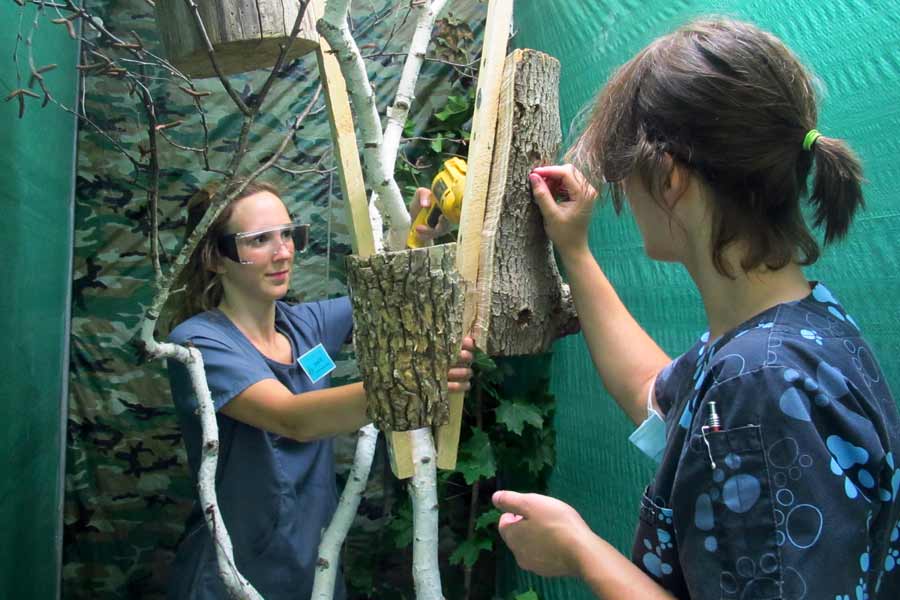 Toronto Wildlife Centre is a great place to do your high school co-op placement! Join the team and work alongside Toronto Wildlife Centre staff and volunteers while you learn about wildlife rehabilitation and meet the needs of wild animals in care.
With thousands of animals being cared for at Toronto Wildlife Centre each year, a tremendous amount of resources are dedicated to both maintaining the upkeep of the facility and ensuring that supplies are clean and readily accessible for Wildlife Rehabilitation staff and volunteers. The high school co-op opportunity offers each student a supportive role in the General Support department with the potential to move into Wildlife Care.
What you'll do
Help to maintain the cleanliness of the wildlife kitchen and hallways
Help to maintain the cleanliness of the wildlife hospital and rehabilitation rooms
Wash sheets, blankets and bedding used by patients
Fold and organize clean laundry
Ensure that appropriate caging and supplies are ready for incoming wild patients
Potential to move into Wildlife Care
Wildlife Care Responsibilities:
Provide care (including monitoring, feeding, and weighing) to wild patients
Clean animal enclosures
Prepare patient diets
Time Commitment
Co-op students commit to regular weekly shifts for several days a week depending on each school's co-op arrangements. Please note that students are required to commit to a minimum of 4 hours each shift.
Requirements
16 years of age or older
Exceptional record of attendance at school
Minimum of 80% grade average
Interest in and respect for the unique needs of wild animals
Up-to-date tetanus vaccination
Non-profit volunteer experience is an asset
Application Procedure
If you are interested in becoming a co-op student at Toronto Wildlife Centre, please submit an online volunteer application through our website. Once you have submitted your application, please email your record of attendance, transcript, and letter of recommendation (from a reference other than your co-op teacher) to [email protected].
Apply Now