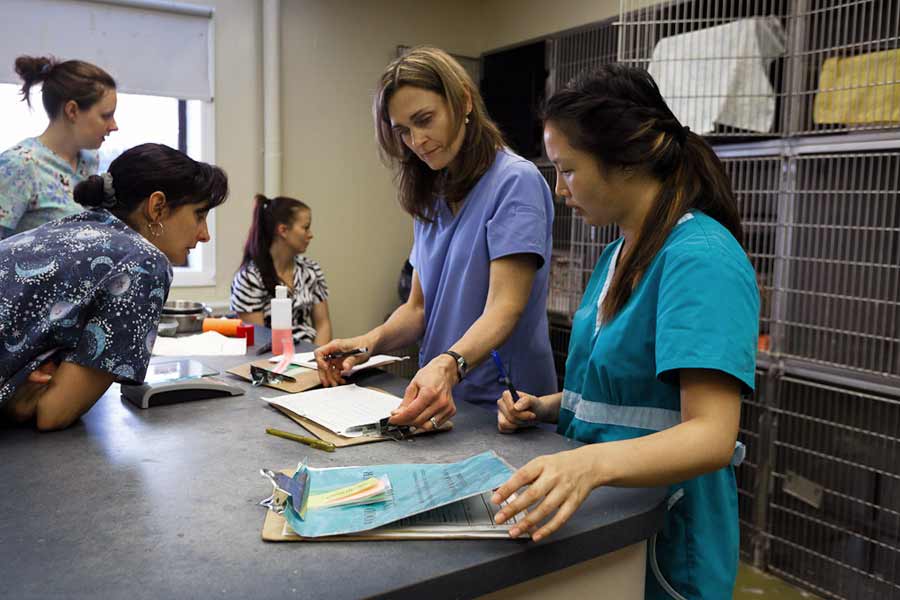 Internship Opportunity: Wildlife Rehabilitation Intern
Program Description
This internship at Toronto Wildlife Centre will provide on-the-job training in basic wildlife rehabilitation skills. Interns will work full-time under the supervision of professional wildlife rehabilitators and trained wildlife caregivers.
Skills learned will include wildlife species identification and safe handling techniques, nutrition and general care of native wild species and the rehabilitation and care of sick, injured and orphaned wildlife. Interns will assist with wildlife assessment and oversight of our wildlife nursery.
Intern will be immersed and involved in all aspects of wildlife care including but not limited to:
Basic wildlife species identification
Wildlife Nutrition
Preparing food/diets fora wide variety of species
Wildlife care and disease prevention
Cleaning and maintaining caging for a wide variety of wildlife species (primarily mammals, birds, reptiles)
Proper disinfection with respect to wildlife health and disease transmission
General support
Assistance with medical care
Administering prescribed medications and fluids
Assisting the staff with treatments
Learning how to look for and recognize signs of illness in birds, mammals and reptiles
Handling and Restraint
Becoming proficient with safe handling and restraint of wild animals during treatments and all aspects of general care
Orphan Care
Feeding and providing care for young orphaned wildlife
Requirements
All applicants must be self-motivated individuals with a sincere interest in working with wildlife and the ability to enthusiastically work long hours. Attention to detail, punctuality, initiative and a strong desire to learn are required.
A motivated self-starter who is mature, responsible and reliable
A detail oriented individual, able to quickly adapt to new and fast paced situations
Ability to work hard and work well under pressure
Intern will possess a strong personal work ethic, high level of integrity
A strong team player (interns will work closely with centre volunteers and staff)
Intern must be able to handle emotional aspects of euthanasia
Basic knowledge of Ontario wildlife species an asset
Demonstrated interest or education in wildlife rehabilitation, conservation, biology, ecology or zoology
Volunteer experience in wildlife rehabilitation, wildlife management or animal care is beneficial but not required
Must be driven, possess a sincere interest in working with wildlife, and able to handle a demanding workload and perform in a fast-paced environment
Good communication skills and interpersonal skills, ability to speak, read and write English fluently
Physically fit – work is physically demanding and may involve heavy lifting (up to 40lbs) of supplies or animals
Minimum age of 18
Sense of humour a plus
Application Process
Applications will be accepted from December 1, 2016 through February 14, 2017.
Session Dates
4-month positions include the following sessions:
March 27th – July 24th
April 24th – August 21st
June 1st – Sept 30th
6-month positions include the following sessions:
April 1st – Sept 30th
May 1st – October 31st
6-month interns will have the option of offsite housing (personal vehicle required), and will have more extensive training with more advanced tasks.
Weekends/evening shifts included.
*Preference shown to applicants with current rabies pre-exposure vaccination.
Application packet must include cover letter, current resumé, and 2 written work references. Session preference must be included.
Please send your completed application packet by email or by mail to:
Attn: Internship Opportunities
Toronto Wildlife Centre
60 Carl Hall Rd., Unit # 4
Toronto, Ontario, Canada
M3K 2C1
—————————————————————————————-
Wildlife Medicine and Rehabilitation
Veterinary Technician Summer Internship
Program Description 
This program is designed for veterinary technician students or graduates with a strong interest in wildlife medicine. The program will also provide an introduction to wildlife rehabilitation, including basic skills training, animal husbandry and diet preparation. The intern will gain knowledge in the handling and physical restraint of wildlife species, chemical immobilization, laboratory procedures and diagnostics, radiology, anaesthesia, emergency nursing, patient assessments and treatments, basic equipment maintenance and record-keeping.
Requirements
Candidates must be graduates of, or enrolled in, a recognized Veterinary Technician program and must have proof of Tetanus vaccination as well as a copy of a rabies titer within a year of completion of the program.
Sessions Available
Sessions are 16 weeks in length, available between April 15th and October 15th.
Dates can be flexible to adjust to end and start dates of different colleges.
Expectations
The intern will be expected to:
Work cooperatively and enthusiastically within the Toronto Wildlife Centre team.
Be familiar with the policies of Toronto Wildlife Centre.
Complete work within a 40 hour work-week.
Be respectful of the wildlife patients, working to minimize patient stress.
Be familiar with avian and reptile anatomy & physiology.
Research and review literature, relevant to current cases and projects.
Pursue a special interest case study or relevant research project.
Application Process
Current résumé, including three references and contact information
Cover letter explaining your interest and/or experience in wildlife medicine and your career goals
No stipend is available for this position
Off-site housing is a possibility
We will be accepting applications from February 30 through March 30
Please send your application to:
Veterinary Department
c/o Aaron Archer
Toronto Wildlife Centre
60 Carl Hall Road – Unit # 4
Toronto, Ontario, Canada
M3K 2C1
or