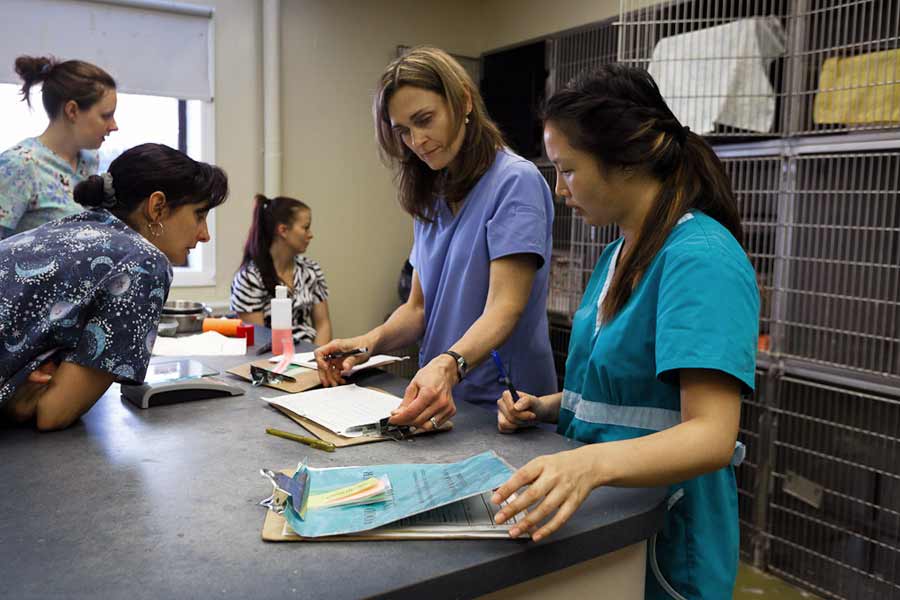 Position:                     Volunteer Veterinary Technician Internship
Reports to:                 Head Veterinary Technician
Location:                    Currently based at Downsview Park, and possibly relocating to the Rouge National Urban Park during 2020
Start Date:                  Spring/Summer 2020 (start dates flexible) 
Commitment:             Minimum 16 weeks, 40 hours (4 x 10 hour shifts) per week on weekdays
Job Summary:
Veterinary Technician Interns at the Toronto Wildlife Centre will be working directly with the veterinary department to help provide medical care for a variety of native Ontario species. This includes songbirds, raptors, mammals, reptiles and amphibians.  They will be involved with reading patient records, doing rounds with the veterinarians and assisting with procedures such as radiography, anesthesia, splinting, and surgeries. Interns will also learn how to handle, medicate and treat numerous species. This unique opportunity is intense, repetitive at times, fast-paced, physically demanding and requires significant responsibility and initiative. It may be one of the most interesting and rewarding experiences you will ever have. In this often challenging position, you will be given the opportunity to see what wildlife rehabilitation is really like; providing you with hands-on experience that may lead you down an exciting new career path and find you a few new friends and lifelong memories along the way.
Just some of the skills learned include the following:
Species identification
Natural history and behaviour
Animal handling and husbandry
Recognizing signs of illness
Record keeping using online database
Release criteria
Gavaging
Fluid therapy
Wound management
Medicine administration
Radiographic positioning
Anesthesia in wildlife
Parasitology
Sample collection and in-house laboratory testing
Interns will work under the supervision of professional wildlife veterinarians, technicians and rehabilitators.
Description:
Ensure a positive, professional, and safe working environment at all times; with a focus on both human and animal safety
Learn about basic species identification, natural history, and behaviour of a wide range of wild patients
Learn about all aspects of wildlife care
Assist with treatments like administering medications or fluids, and basic wound management
Update patient records
Assist with hospital maintenance
Qualifications:
Completing their final year of the Veterinary Technician program at an accredited college
Current tetanus vaccine
Rabies immunization – a copy of your titre from within the past year will be required
Experience in wildlife rehabilitation is beneficial but not required (training provided)
Competencies:
Strong interpersonal skills and ability to work collaboratively within a team
Motivated self-starter, with ability to prioritize
Flexible and adaptable to changing and dynamic work environment
Must be comfortable working long hours with a demanding workload
Strong work ethic and desire to learn
Excellent communication skills; must be proficient in English
Excellent analytical and problem-solving skills, with strong attention to detail
Knowledge of Southern Ontario wildlife identification and natural history is a definite asset
Previous experience working with volunteers an asset
Please send cover letter, resume, availability, and 1 letter of recommendation to josephinec@torontowildlifecentre.com. Please make sure "Internship" is included in the subject line. Application deadline is February 29th, 2020.
We would like to thank you for your interest in this position. Unfortunately only those who qualify for an interview will be contacted. Thank you for your understanding.