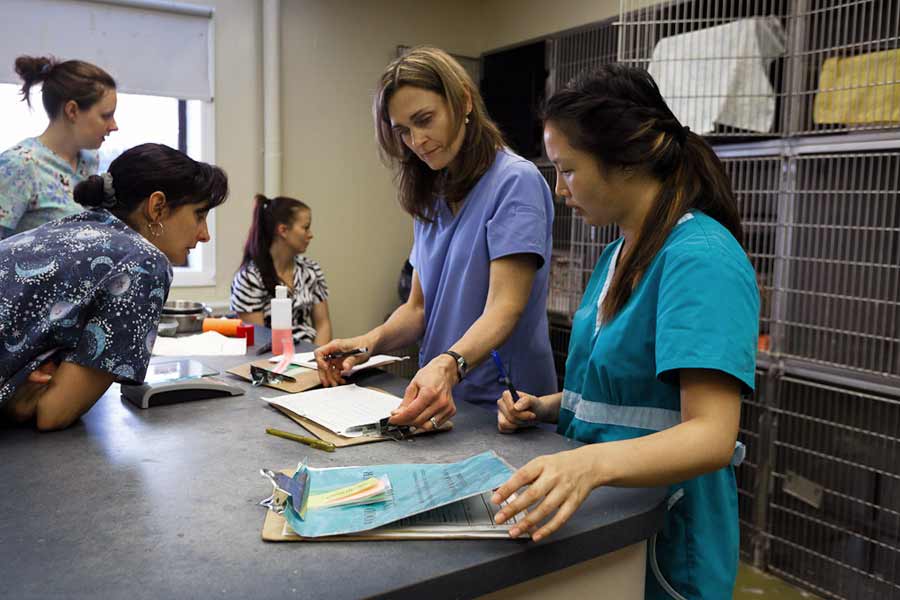 Become a Fall/Winter Intern!
Toronto Wildlife Centre's wildlife rehabilitation interns provide direct care for wild patients such as birds, mammals and turtles. The internship is intense, repetitive, fast-paced, physically demanding and requires significant responsibility and initiative.
The position provides the interns with the opportunity to learn about all different aspects of wildlife rehabilitation. Interns will work alongside staff and volunteers to gain valuable practical experience while helping TWC's wildlife patients. Some of the skills learned include the following:
Species identification
Natural history and behaviour
Environmental enrichment
Animal handling and husbandry
Diagnostic procedures
Fluid therapy
Wound management
Medicine administration
Proper nutrition and food presentation
Hygiene and quarantine protocols
Release criteria
Hand-feeding young orphan birds and mammals
Tube feeding birds
Record keeping using online database
Recognizing signs of illness
Interns will work under the supervision of professional wildlife rehabilitators and trained wildlife caregivers.
Requirements:
The internship requires a minimum of four 10+ hour shifts per week and applicants must be at least 18 years old. Applicants must be current on their tetanus vaccine and preference will also be given to those that have the rabies immunization. We require interns to have a flexible schedule as weekends, evenings and holidays are required. Ideally we will give our interns a set schedule whenever possible which will allow for part time work on days off if necessary.
Applicants must be comfortable working long hours with a demanding workload. Interns will need to be able to perform physically demanding tasks such as heaving lifting and working in awkward/tight spaces. Days are scheduled as 10 hours, however, since this is a task based workplace, longer hours are frequently required in order to complete all necessary tasks (expect 12 hours).
Interns will need to be able to handle physically and emotionally stressful circumstances, as well as be able to adapt to new and fast paced situations. They will need to be able to organize tasks, set goals, meet deadlines, have a strong attention to detail, and be able to work independently or in a team.
Interns need to have a strong personal work ethic, high level of integrity, punctuality, initiative and a strong desire to learn. Good communication and interpersonal skills, ability to speak, read and write English proficiently is also required.
Amenities:
Off-site housing is available at no cost. Note that personal transportation will be necessary as public transportation is not practical from that location.
Payment: Unpaid
Length of Commitment: 4 months
Application Procedure:
Please email a resume, cover letter, potential start date and 3 letters of recommendation by September 15, 2017 to aarona@torontowildlifecentre.com . Preference will be given to those that can start immediately.
Current TWC volunteers only need to submit 2 letters of recommendation.