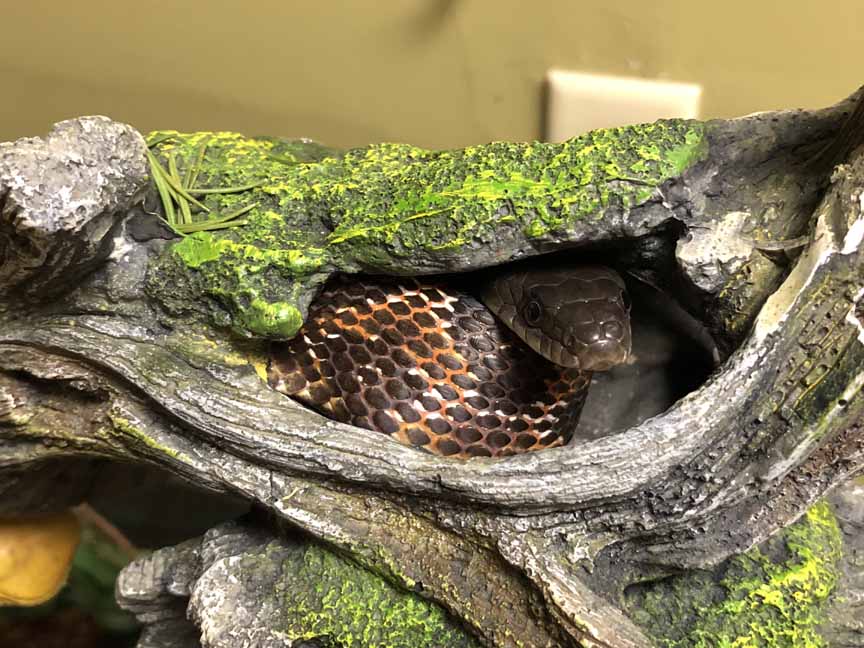 A young Western rat snake was admitted to Toronto Wildlife Centre (TWC) on May 1, after being found hiding in some tires in a transport truck when it arrived in the Greater Toronto Area (GTA) from the United States. The non-venomous, 3-foot snake had travelled over 2,000 km, all the way from Cooper Tire & Rubber Company's tire manufacturing plant in Texarkana, Arkansas to one of their customers in Canada.
The snake arrived at TWC dehydrated and with injuries to his back, presumably from traveling among the heavy tires. The wild patient was treated for his injuries and has recovered, but is frightened and stressed in captivity and needs to go home, back to Texarkana.
Although Ontario has its own species of rat snake, which is the largest snake in Canada, they are a species-at-risk and endangered in parts of the province. The Western rat snake is not found in Ontario, and it is important that all wild animals be released in their own home territory.
Toronto Wildlife Centre staff have been hard at work for weeks making arrangements to send the travelling snake back to his native area.
Today, the young snake will be carefully enclosed in an appropriate travel carrier and driven to the Canada/U.S. border where he (and his U.S. Fish and Wildlife Service paperwork) will be inspected for re-entry back into the United States. He will then be driven to the Detroit airport where he will board a plane and be placed in a climate-controlled compartment to fly to Little Rock, Arkansas. A representative from Cooper Tire will pick the snake up from that airport and drive him to the plant in Texarkana, a two-hour journey, where he will be released back into his forest home.
The team at Cooper Tire has been very helpful and is happy to welcome the snake back. "This snake has made an incredible journey, and we are pleased to work with the TWC to ensure he is returned to his home," said Jon Huffman, Cooper's Canadian Sales Manager. "In recognition of the outstanding work done by the Centre, for this snake and countless other animals, Cooper has donated a $1,000 gift voucher for tires to be auctioned at the TWC's annual Wild Ball fundraising gala and we are happy to support their life-saving work."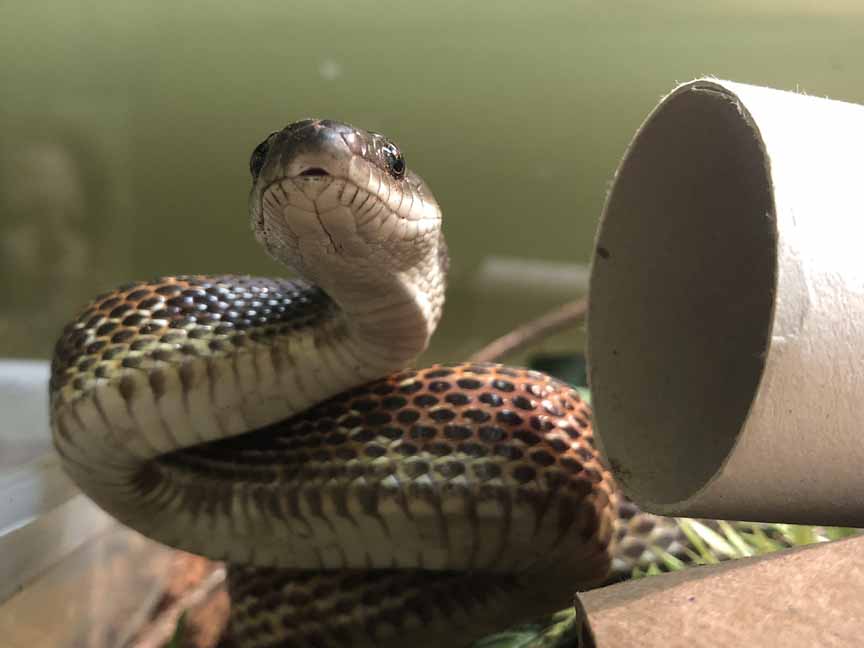 Rat snakes are non-venomous and pose no danger to people. They feed on insects and small rodents such as mice and rats, playing an important ecological role by keeping rodent populations at bay. In fact, they got their name because of their love of eating rats! Rat snakes are smart. They know that their own predators fear the deadly rattle of a rattlesnake so when threatened, they may "rattle" their tail, pretending to be one of these dangerous snakes. Unfortunately, this sometimes causes people to kill them out of falsely perceived danger.
Western rat snakes grow to be 6 feet long so this travelling snake, at only 3 feet in length, is still young. With an average life span of 15 years, this animal may recover well from his ordeal and live out a long and happy life in the wild.