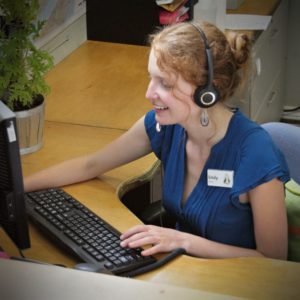 TWC's Wildlife Emergency Hotline is a vital service that provides expert advice to members of the public on wildlife situations 365 days a year. The hotline is one of TWC's busiest programs, handling approximately 30,000 calls and admitting up to 5,000 wild patients every year. Hotline staff must be excellent multi-taskers; responding to up to 200 calls per day, organizing rescues, posting to social media and admitting patients – the hotline office is always abuzz with the sounds of helping wildlife.
Emily has been working on the hotline for almost one year; she answered a few questions about why this service is so important, why she loves educating and helping members of the public and what she believes are the biggest issues facing urban wildlife.
Why did you join the hotline?
I am really interested in working in the environmental education field. I previously worked as a nature interpreter at High Park Nature Centre and thought that working on TWC's hotline would be a good way to further develop my knowledge about urban wildlife.
How do you help members of the public?
People often don't understand the ecosystems we live in, including wildlife in our own neighborhoods. This disconnect from nature is particularly evident in urban environments, where our fast-paced lifestyle easily distracts us from the world around us. When people encounter a wildlife situation in their own backyards, on their street, or at work, they don't know what to do. Hotline staff encourage members of the public to think of our community as including all living things – not just people. Through resolving wildlife conflicts we hope to remind the public of our responsibility to our ecological community and how to coexist peacefully.
Do you have a favourite or memorable call you can share?
There are so many to choose from! I love the ones that involve reuniting babies with parents. I recently spoke to a woman who was frantic; she found 2 baby mourning doves on her front steps, maybe 2 or 3 days old, very young. I walked her through the reuniting process, including making a new nest for the family. She was reluctant, but with lots of encouragement and convincing she did it! The mother continued to parent in the new nest and the woman even sent us follow up pictures so we could see what she accomplished.
Convincing people to take action is important; there is no second best when it comes to parenting wild babies. When wild parents are present, we must give them every chance to raise their babies.  A successful situation, to me, is when what could be a devastating situation turns into a completely normal situation and it empowers people – people who thought they couldn't do it become very proud and even inspired to help wildlife again.
What are some common issues you hear about on the hotline?
Unfortunately there are a few common problems we regularly hear about; people who come across wild babies and take them out of a normal situation, or trapping and moving wild parents which cause young to become orphaned. Sometimes reuniting is a possibility but more often than not, people who mean well end up creating a more serious problem.
Feeding of wildlife is another big issue. On the hotline, we tell people who have found a sick, injured or orphaned animal not to give them any food. Being admitted with an empty belly helps our medical team assess them but more importantly, every species has unique dietary needs and most of the time, people given them inappropriate food. Sometimes babies are fed improperly causing them to aspirate, which can be life-threatening. It's really important for people to call a wildlife rehabilitator before taking any action.
TWC would like to thank Emily for her thoughts as well as the W. Garfield Weston Foundation for supporting education at TWC.