Every spring, millions of migratory songbirds make the long and arduous journey from their southern wintering grounds to areas where they breed in the north. They face many dangers as they pass through our cities where indoor lights and reflective windows confuse our feathered friends; too often, this confusion leads to window strikes which can cause serious injuries, and even death.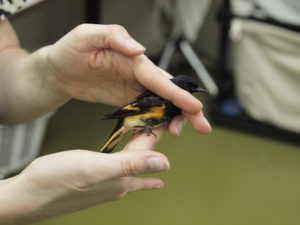 Kind members of the public find the ones that survive and bring them to Toronto Wildlife Centre (TWC) to receive life-saving medical and rehabilitative care. From head trauma, to broken collar bones, to eye ulcers, to cracked beaks – birds suffer serious injuries when they collide with windows.
Like this American redstart that was found on the ground next to a building at Yonge Street and York Mills in Toronto.
Luckily, he didn't suffer any fractures; however, his flight was weak. He was given Nutrical – a high-calorie dietary supplement to boost his energy, fresh food, a safe enclosure where he could rest and build up strength for flight and by the next day, he was flying well and moved to an outdoor aviary. He was monitored for a few more days until our rehabilitation team gave the green light for him to be released back to the wild to continue on his migratory path.
Both this indigo bunting and magnolia warbler were admitted suffering from head trauma and eye ulcers.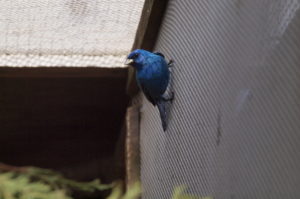 After 5 days in care with plenty of medication to ease pain and reduce inflammation, the birds were given a test flight and passed with flying colours! After spending some time in our outdoor aviary for monitoring, they too were released back to the wild, healthy and strong once again.
Thanks to a grant from the Ontario Wildlife Foundation, as well as our generous community of supporters, help is available for these vulnerable wild patients.
But we need to do more; we need to help birds in ways that will reduce the likelihood that they will need to stay in our wildlife hospital in the first place. A few simple changes in our behaviours and infrastructure can make a big difference – please check out our friends at FLAP for some great tips on making windows and buildings safer for birds!