On Sept. 16th a pair of migrating trumpeter swans were illegally shot by hunters at the Hilliardton Marsh Conservation Reserve, almost 3 hours north east of Sudbury.
One swan was shot in the heart and died instantly. Its mate was shot 3 times but managed to escape. It was seen off and on over the next week, so staff at the Hilliardton Marsh Research and Education Centre and local Ministry of Natural Resources and Forestry (MNRF) conservation officer Peter Gilboe worked diligently to track and capture the wounded bird.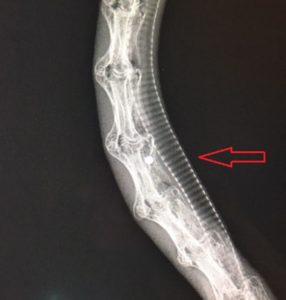 Once captured, the bird was taken to a local home-based wildlife rehabilitator who enlisted the help of the School of Veterinary Sciences at Northern College to do initial x-rays of the swan. The x-rays confirmed that gunshot was in the bird, but they hoped the swan was a candidate for medical care and rehabilitation.
The local rehabilitator called Toronto Wildlife Centre and asked if she could transfer the bird to us for care, and of course we agreed to help!
Once the bird arrived at TWC's wildlife veterinary hospital, transportation arranged by the kind MNRF officer, additional x-rays were taken that confirmed the presence of shot in the swan's neck, its leg, and a third that had cracked a bone in the once powerful wing of the bird.
The swan was also thin, as eight days had passed before Officer Gilboe was able to capture it. During this time the swan was no doubt in pain and having difficulty getting to safe feeding areas.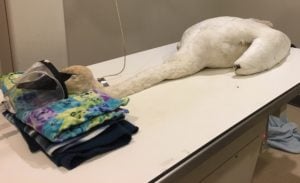 The TWC team is now working hard to help this wounded bird – the largest native swan in Canada – and is determined to give it the best chance of recovery and return to the wild one day.
Trumpeter swans are federally protected under the Migratory Birds Convention Act. These beautiful birds mate for life, but occasionally may find a new mate if their mate dies.
Once plentiful across central and eastern North America, by 1933 they were on the brink of extinction; virtually eliminated from their northern nesting and wintering areas due to market hunting for their skin and feathers.
Over the past several decades, trumpeter swan populations have been recovering and are now considered stable.
Reports are that the shooting was accidental, but an active investigation is underway by the Ministry of natural Resources and Forestry in northern Ontario.
If you'd like to help this trumpeter swan please click here to donate.