TORONTO: May 12, 2017 – In Canada's largest urban region, wild animals and people are forced to coexist. Many times, it's the animals that are the casualties, as their lives intersect with our own. That's why an agreement to relocate Toronto Wildlife Centre's, (TWC) headquarters to within Rouge National Urban Park is a perfect fit.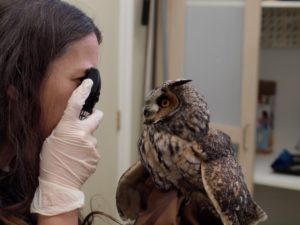 In October, 2012 Toronto and Region Conservation Authority (TRCA) approved in principle a proposal from Toronto Wildlife Centre for a long-term lease in the Rouge National Urban Park. This beautiful, protected location will allow TWC to build a permanent facility to help wildlife and to educate the public about wildlife issues. Every year, TWC cares for up to 5,000 injured, sick or orphaned wild animals.
On Friday, May 19th the Board of Directors of TRCA will consider providing further assistance to the project by helping to secure much-needed funds from many levels of government. If the project to build TWC's new and permanent home is successful, it will be the largest, most advanced facility of its kind in the country and unique in the world.
"The partnership between TRCA and TWC is a great fit," Nathalie Karvonen, TWC Executive Director, said. "With TRCA's excellence in protecting and enhancing green spaces throughout the GTA and TWC's leadership and track record, we will be able to help even more wild animals who thrive in/near those areas and their human neighbours."
Stanford Downey Architects have donated their services to the project and assembled a team of volunteer consultants to assist with the planning and design phase of the project already underway.
With hundreds of species of wild birds, mammals, reptiles and amphibians sharing communities across the GTA with over 6 million people, the need is great to help everyone peacefully coexist.
-30-
For more information about Toronto Wildlife Centre, please visit www.torontowildlifecentre.com
For more information about this release or to schedule an interview, please contact:
Nathalie Karvonen
Executive Director, Toronto Wildlife Centre
416-631-0662 x3201 [email protected]
Glenn De Baeremaeker
Deputy Mayor and Councillor, City of Toronto & Board member, Toronto and Region Conservation Authority
(416) 392-0204 [email protected]
James Rasor
Principal Architect, Stanford Downey Architects
(416) 868-6036 x 242 [email protected]