One can only imagine what its like to be a wild baby who has lost their family. Cold, hungry and dehydrated, they would search for anything familiar.
This search had one little gosling in the middle of the road at a major intersection in Toronto, when Charlie found her in the evening of April 27th. Charlie called TWC's Wildlife Hotline who gave him temporary care instructions. He brought the baby into TWC the following day.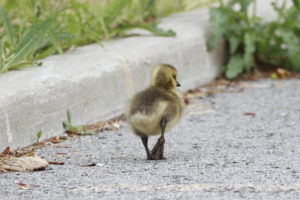 The next day, Ellen, another caring individual, witnessed a gosling fall off a median in the middle of a busy street in Etobicoke. The lone baby crossed the road and begin walking though a crowded gas station when Ellen chased and picked him up. She drove frantically around the industrial area looking for his parents and when she couldn't find them she brought him to Toronto Wildlife Centre.
Our medical staff noted that the bright and responsive goslings were peeping consistently throughout their exams, and that they could run well. These goslings didn't know it, but medical staff were pleased to find out that TWC's Rescue Team had captured a small family of Canada geese from an unsafe nesting area that morning. They were pleased because, a family of Canada geese will gladly adopt orphaned goslings who are at the same stage in development as their own.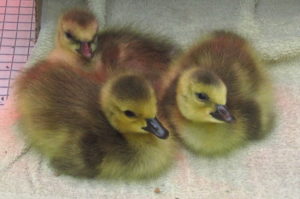 The family of geese in question, made up of two adults (mom and dad) and three fluffy little babies, had nested on the roof of Brampton City Hall. Dwayne, the building's property manager, told hotline staff that the babies had started jumping off the roof. After the rescue team caught the family, they were concerned that the goslings seemed weak. They brought the family back to TWC for help. In care, the two orphaned goslings were introduced to the three from the family. They were placed in a cozy basket, with a blanket, water, greens, waterfowl pellets, and a heat lamp to keep them warm. When the parents were reintroduced a short time later they were quick to adopt the two orphans.
The next day, the family, along with their two new babies were released together at a quiet lake. The two little orphans would not be alone any longer.
Since this day the rescue team has rescued 13 Canada geese families from unsafe rooftop nests and released them back into the wild. We also now have 13 orphaned goslings in care and there are more on the way as the season is just beginning. Your help is needed.
Would you consider sponsoring a wild baby to help more orphans have happy endings?