A dead raccoon on a Toronto  sidewalk has become the unlikely focus of international media attention when citizens started a sidewalk memorial while waiting for the city to remove the body.
Starting with a tweet from @JasonWagar:

Putting in a pickup request to the City of Toronto, 311 responded that Animal Services has been notified. But in the meantime, local residents felt they needed to honour their deceased neighbour.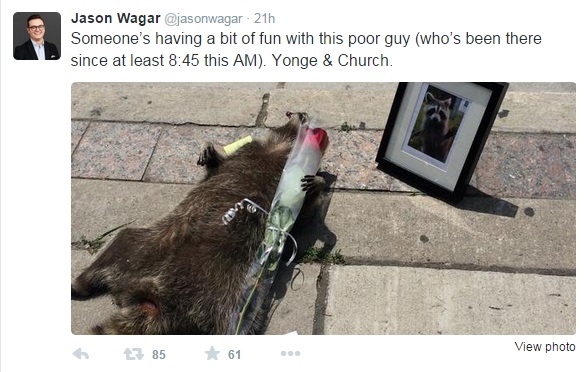 Wagar's tweets were shared hundreds of times and the hashtag #DeadRaccoonTO emerged. The raccoon, dubbed Conrad, was adorned with flowers, grievance cards and notes, and a framed photo. Eventually it gained the attention of Toronto City Councillor Norm Kelly, and his more than 11K followers:

#DeadRaccoonTO became the top Twitter trend for Toronto. Meanwhile the mourning continued for Conrad, and when night fell a candlelight vigil was set up in his memory.
At 11:08PM word came that a Toronto Animal Services worker had arrived to remove Conrad, but the memorial remained. Conrad was transported to a city facility in the city's west-end for cremation.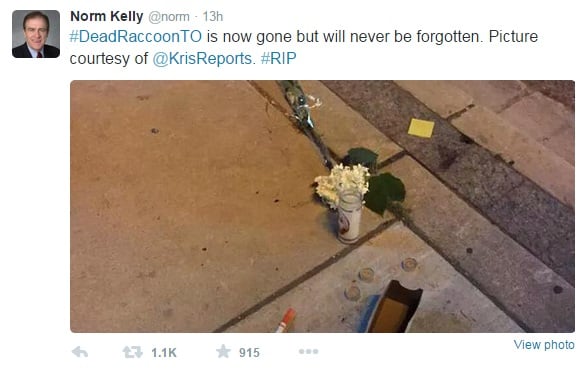 The raccoon is gone, but the story has brought attention to a global issue. Urban wildlife come into conflict with the human way of life every day. They contend with roads, cars, construction sites and pets. Countless animals are killed in urban centres every year. But thousands of others are only injured, and it's important that there are resources available to help those them.
Tweets took a turn to helping the wildlife of Toronto, with Jason Wagar suggesting that donations be made to Toronto Wildlife Centre in lieu of flowers to honour Conrad's memory.

You can make a donation in memory of Conrad, or adopt an orphaned raccoon in his honour.