Species at risk, like this peregrine falcon, are regularly admitted at Toronto Wildlife Centre – the only hospital for wildlife in the Greater Toronto Area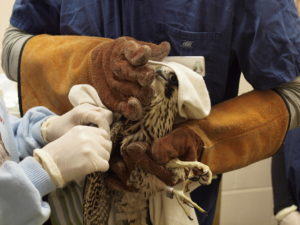 You may have heard of the peregrine falcon who was found injured on a residential street in Mississauga on Oct. 24th.
Upon admission to TWC, her medical exam revealed injuries to her eyes, she was thin and dehydrated, and x-rays confirmed a badly broken wing.
A care regimen was immediately started including fluids, pain medication and careful hand feeding of the frightened bird since she would not eat on her own.
Several days after a complicated orthopedic surgery to repair her broken wing, and after many more medical treatments and hand feedings, the beautiful falcon started to eat by herself.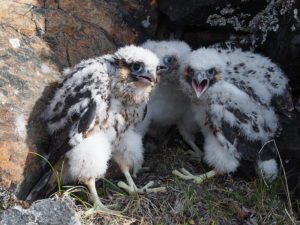 She was housed in a quiet area to keep her as calm as possible while her fracture healed.
Meanwhile, the investigation was underway to find out who she was. The peregrine falcon had arrived with a numbered band, but that wasn't yet registered. A determined volunteer, Rob, took it upon himself to do the detective work and was able to solve the mystery!
The peregrine patient had been banded earlier this year as a baby, high in a nest in a spectacular area of Igloolik, Nunavut.
The chief bander kindly passed along some incredible photos depicting his climb to find the nest.
Peaceful, scenic Igloolik is about 3,000 kms from the bustling Greater Toronto Area; a long journey for this youngster! And then that journey was interrupted by a terrible accident that has left her fate in human hands.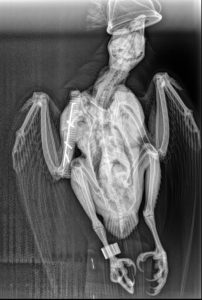 I'm happy to report that the young falcon has obtained a healthy weight and is strong and stable. Her surgical pins have been removed and she will soon start physiotherapy to strengthen her wing.
With your help, she'll continue her recovery and be able to resume her life in the wild. At Toronto Wildlife Centre we admit over 270 species of wild animals and regularly admit species at risk like this peregrine falcon.
In fact, we have another peregrine falcon in care right now!
Will you consider a donation to help feed this peregrine falcon and the other wild patients in need of your help?
Thank you,

Executive Director