On June 29th, Toronto Police issued a Public Safety Alert about a sick adult coyote in Scarborough, saying he had mange and a "brain disease". Toronto Wildlife Centre (TWC) had been receiving calls about this too.
TWC rescue staff had responded when police officers had guns drawn on the sick animal. They explained that the coyote posed no danger, had no "brain disease", and TWC and Toronto Animal Services were working on catching him. We discovered that he was a father caring for at least three sick babies. The mother had recently been hit by a car and killed so the sick father has been struggling to care for his pups alone.
On July 23rd, police responded to another call about this coyote and this time shot him. After following the blood trail, police could not find the injured, sick animal. The pups disappeared. Residents in the area where the shooting took place, were asked to report sightings of the coyote to TWC.
On July 28th dad was spotted, injured by gunshot and still suffering from mange. He was still working hard to keep his pups alive. Rescue efforts ramped up, involving many volunteers, TWC rescue staff and specialized equipment. Some days there has been 24 hour monitoring. It continues to be a race against time to capture this family in crisis.
Capturing coyotes is very difficult. The father is eluding us, but we have captured five pups. There is still at least one pup with him. We continue to try to get them the help they need.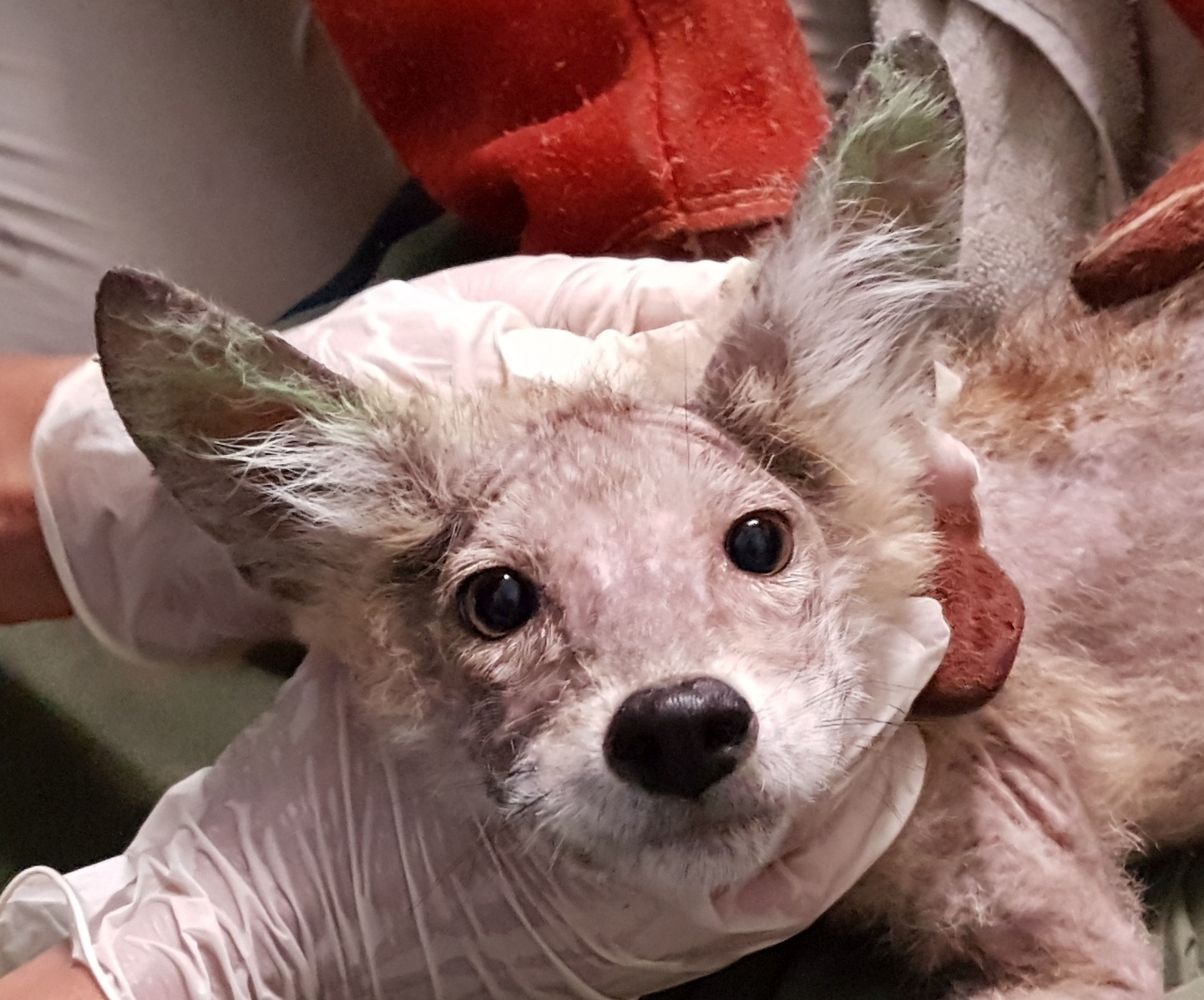 Coyote pup #1
Captured by rescue team July 30th
Weight on admission = 3.8kg
Male & female genitalia
Condition on admission: lethargic but stronger than his / her sister who died, scabs and abrasions on skin, mange, very thin / emaciated, very dehydrated
Treatment: fluids for 5 days, treatment for mange and other parasites
Housed with other pups
Diet: syringe- fed Vanilla Ensure (Strawberry was rejected) at first, puppy chow, berries, apple, egg, chicken, mice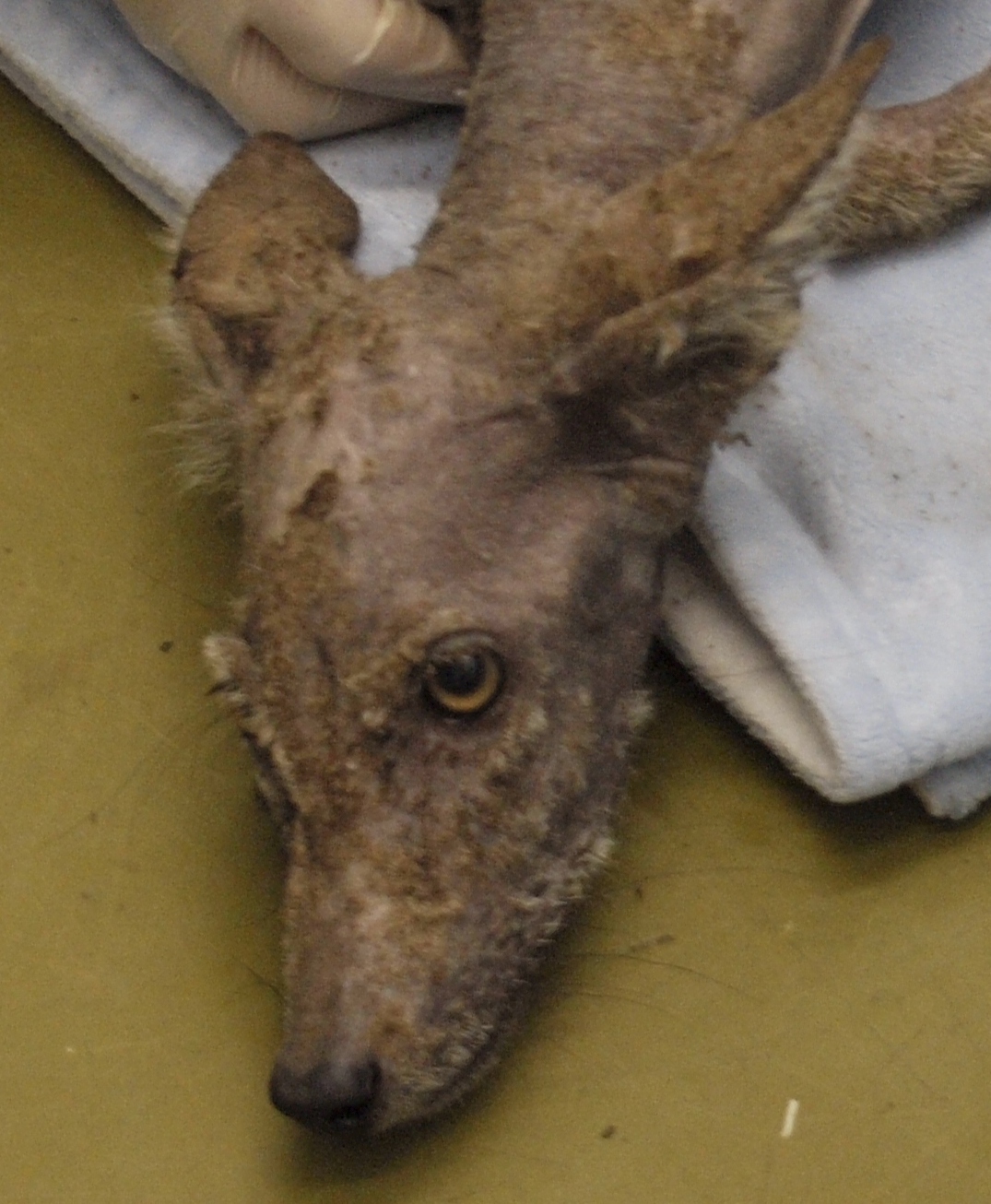 Coyote pup (deceased)
Captured by rescue team July 30th
Female
Condition on admission: weak, lethargic, severely dehydrated, hypoglycemic, emaciated and with very low blood pressure, mange severe
Emergency care for 6 hours included oxygen therapy, warmed IV fluids, warming blankets, simple sugars, and more
Registered veterinary technician Aaron Archer, who worked on the pup with one of TWC's vets, contracted mange himself by working so closely with this sick coyote attempting to save her life.
Despite our best efforts, she died the afternoon of July 31st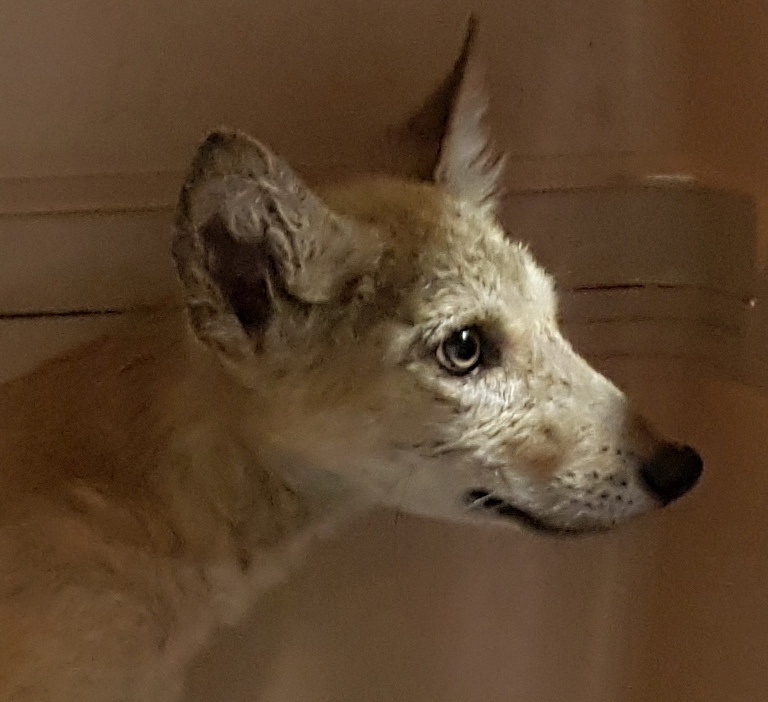 Coyote pup #2
Captured by rescue team August 1st
Weight on admission = 4kg
Male
Condition on admission: thin, dehydrated, mange minimal, some skin cracking, tapeworms
Treatment: fluids for 6 days, treatment for mange and other parasites
Housed with other pups
Diet: puppy chow, berries, apple, egg, chicken, mice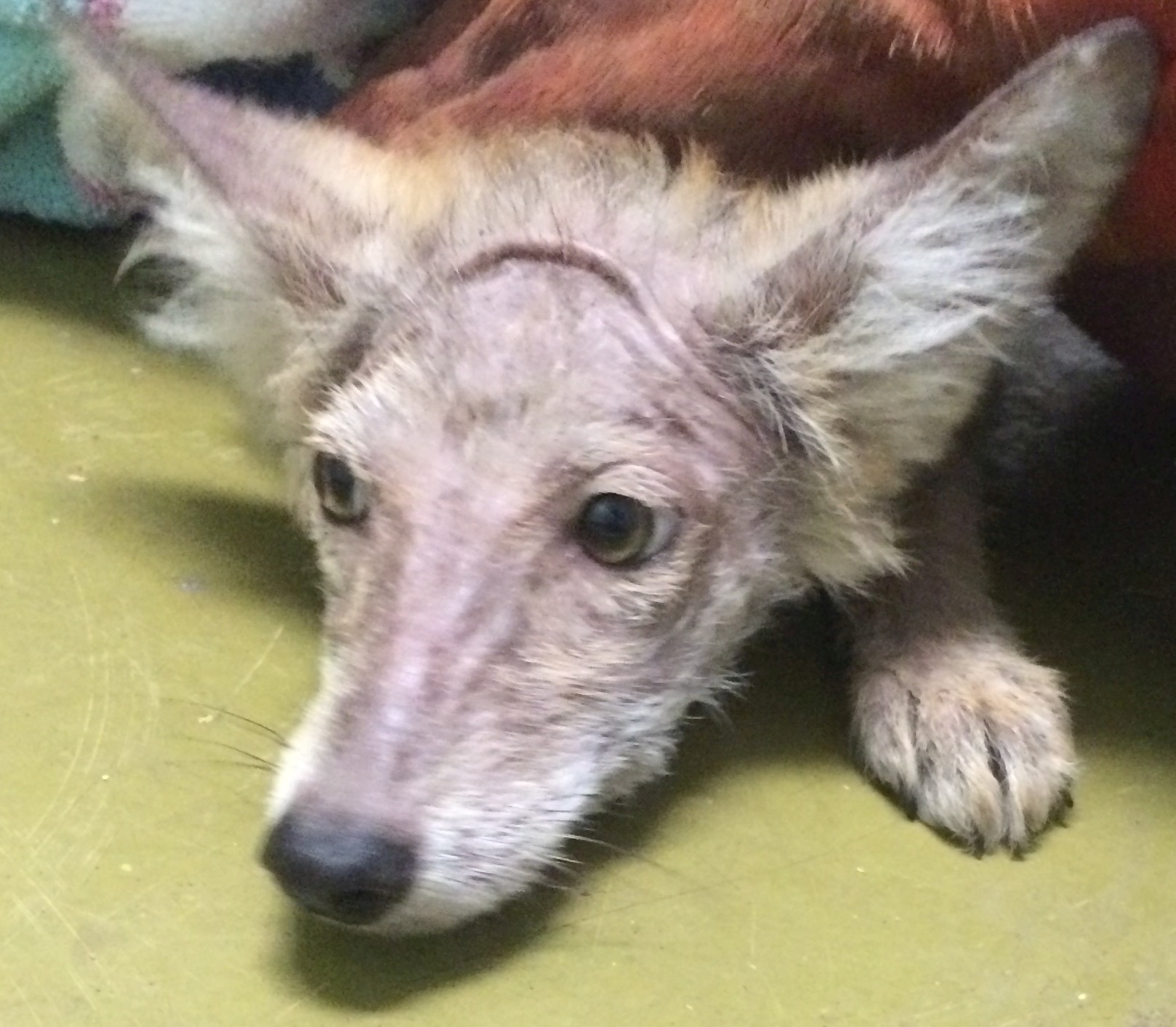 Coyote pup #3
Captured by rescue team August 1st
Weight on admission = 6.97kg
Male
Condition on admission: frightened and trying to nip, several small abrasions on skin, severe mange, body condition fair / thin, dehydrated
Treatment: fluids for 4 days, treatment for mange and other parasites
Housed with other pups
Diet: puppy chow, berries, apple, egg, chicken, mice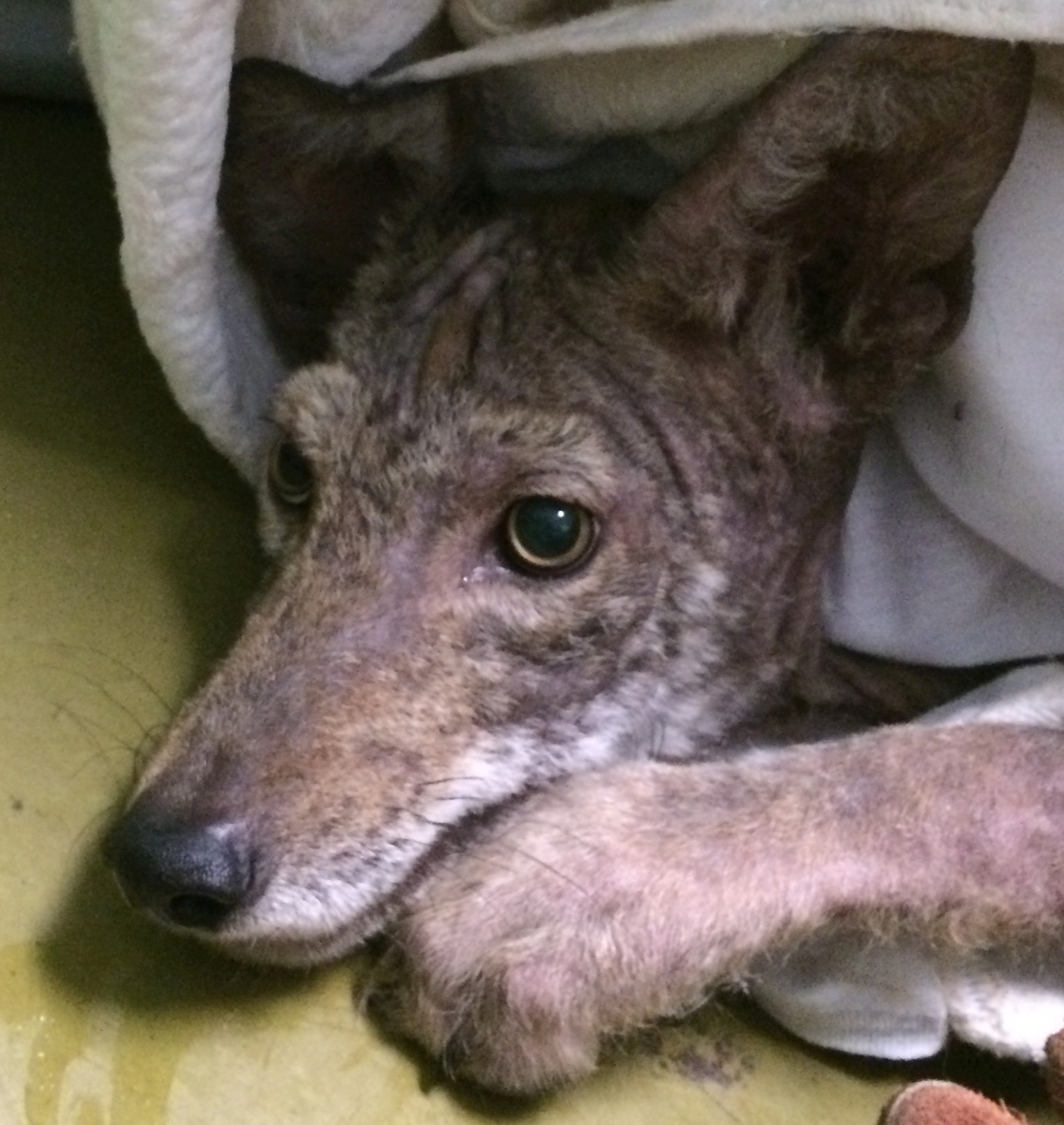 Coyote pup #4
Captured by rescue team August 1st
Weight on admission = 6.03kg
Male & female genitalia
Condition on admission: lethargic, several small abrasions on skin, mange, ticks seen, thin, dehydrated
Treatment: fluids for 4 days, treatment for mange and other parasites
Housed with other pups
Diet: puppy chow, berries, apple, egg, chicken, mice