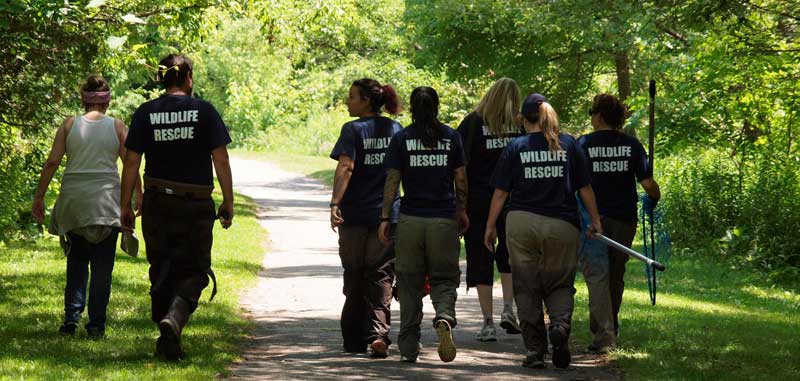 The oil spill near Mimico Creek, which left more than 100 mallard ducks covered in mineral oil, has also shown what the strength of a community can do.
Hundreds of Torontonians have stepped up, offering their help for the rescue efforts. Here are a just a few of the people who have left us humbled by their caring:
Laurie, who frequently walks along the creek, noticed that something was wrong with the water and the ducklings she had watched grow from hatchlings — they looked oily and smelled bad. She phoned every organization she thought could help the ducks, until Toronto Wildlife Centre arrived. Later that day, she bought cold drinks for the grateful (and thirsty) rescue team and volunteers.
Amanda was jogging along the creek when she noticed the commotion. She stopped to see if she could help and ended up as a volunteer messenger, relaying information and supplies back and forth between two groups of rescuers. Amanda estimates she added a further six kilometres to her morning run, but was so happy she could do something to help.
In a car with his grandmother, Adrian noticed this duck huddled in the grass on a quiet suburban street. He insisted she pull over and find help. Having heard of the oil spill in the news, they walked down to the creek and found the rescue team.
When a group of oiled ducklings was spotted at a local golf club, employees Paul and Carl drove the team and all their gear across the course in golf carts.
Gerry and her dog Brigadier encountered the rescue team on their daily walk. Already a supporter of Toronto Wildlife Centre, she would not take no for an answer when she offered to buy lunch and coffee for the whole group.
Thank you to these heroes and to the hundreds of other people who stopped to offer help, gave words of support, and made donations. Toronto's wildlife is lucky to have you and so are we!