One day in early December, a white-winged scoter sat still and alone on the platform of Ontario Power Generation's northern Abitibi Canyon hydro-electric generating station. A staff member noticed its unusual behaviour and approached it to find it immobile and lethargic, yet very much alive. They contained the duck and called the Ontario Ministry of Natural Resources and Forestry (OMNRF) for assistance.
The emergency hotline staff working at Toronto Wildlife Centre (TWC) were certainly surprised to receive a call from the OMNRF about a duck so far north – a 10-hour drive from the wildlife centre. They provided temporary care instructions and planned for its journey; a representative from the OMNRF kindly offered to make the long drive to get the scoter the help it so desperately needed.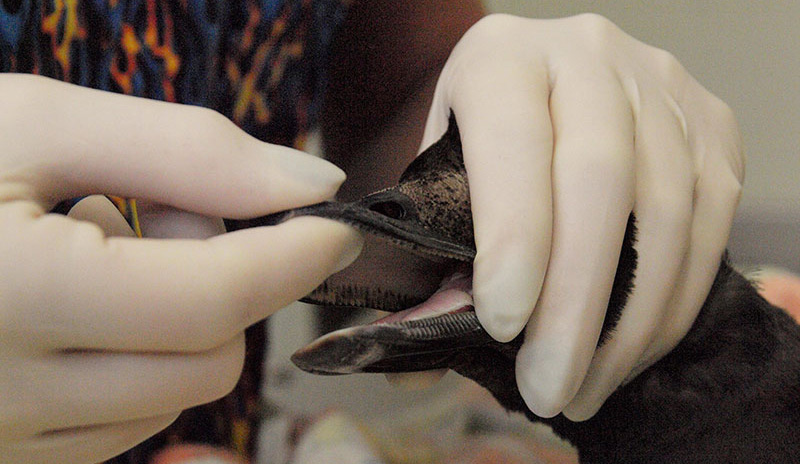 Upon arrival, the scoter was rushed to the assessment room where it was examined by TWC's expert medical team. Severely dehydrated, and suffering a fracture to its upper beak, the duck was in poor condition and would have surely succumbed to its ailments had it not been found by an empathetic employee of OPG. Medical staff provided a variety of therapies including pain management medications, fluids for rehydration and supplemental feeding in order for it to regain its strength.
After a week in care, the patient was lively and healthy once again. Volunteer bird-watchers had already been keeping an eye out for other migrating scoters in the area; luckily, many were spotted at Colonel Sam Smith Park on Lake Ontario in the west end of Toronto. Not wanting to miss the window of opportunity, or keep the scoter in captivity longer than absolutely necessary, TWC Rescue staff released the bird back to the wild, to live among its kind once again.
by Victoria Badham (Toronto Wildlife Centre)